KETTLEBELLS
PROGRAM

A Kettlebell is a traditional Russian cast-iron that resembles a cannonball with a handle. Kettlebells have been used since the 17th century by Russian weightlifters and nowadays, they are also very popular in America.
Kettlebells are the optimal training for everyone who wants to lose fat, reach high levels of fitness and increase his strength to an unrealistic degree.
There are dumbbells of 2 pounds for beginners up to 76 pounds for superhuman.
With thousands of variations in exercises, you can train your whole body. Nothing is comparable to the strength and endurance that Kettlebells offer.
Guerrilla Tactical Strength provides daily classes on Kettlebells from Monday to Friday (18:00-19:00) for all levels (beginners – medium-advanced). Moreover, there is the Open Gym option. This means that everyone who wants to train himself on calisthenics can run the program on his own whenever he wants, during the school's working hours, always under a trainer's supervision.
Guerrilla's trainers are highly qualified and always ready to teach and help you to evolve steadily and without any injury that can easily be caused to an inexperienced athlete who starts off on his own.
IKFF
IKFF is a US-based company and its President is named Steve Cotter. It has branches in most parts of the world. Panos Zacharios is an authorized instructor from IKFF. He is continuously updated on anything new happening in the world of kettlebells.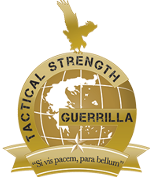 Join Us!
Visit us for a free training
Tel: +30 6944222877