PANOS ZACHARIOS
Head Instructor
Panagiotis Zacharios is the founder and chief instructor of Guerrilla Tactical Strength founded in 2009.
His encounter with Krav Maga began when he attended Avi Moyal's (Chairman of IKMF) instructors' school in Greece back in 2006. Since 2007 he teaches Krav Maga professionally.
He was a member of the International Krav Maga Federation (IKMF) and the International Military Krav Maga organization (IMKM) until 2014 when he started collaborating exclusively with Krav Maga Global (KMG) Greece. He was a lead director of KMG Attica and all its instructors were trained by him.
Now, Guerrilla works with many different Krav Maga providers around the world.
During all these years of teaching Krav Maga, Panos Zacharios has travelled many times to Israel and other countries, taking part in many courses and training. He has met all the great teachers of Krav Maga worldwide.
His devotion and lifetime practising of martial arts led him to the decision of pursuing Muay Thai in 2009. For this reason, he travelled to Phuket, Thailand and attended courses in the world-famous Camp Tiger Muay Thai. After two months of eight hours' daily training by top Thai instructors, he managed to reach the most advanced level.
Moreover, in 2011 he was certified by Steve Cotter and the International Kettlebell and Fitness Federation (IKFF) as a Certified Kettlebell Teacher Level 1.
From 2015 onwards, he has decided to engage in the operational use of weapons as well as in practical shooting. In October 2016 he travelled in Serbia to participate in a school in the Tactical Training Team (TTT), one of the most renowned companies in the field. After four days of hard training, he was certified in Pistol – Rifle – Shotgun Basic Level. Since then, he has attended several courses aboard and in Greece and now he is an active shooter and practical shooting athlete enrolled in the Greek Shooting Federation from which he was certified as a shooting instructor after the end of the state-recognized school in 2017.
General Knowledge of Martial Arts and Sports Activities
His lifelong interest in martial arts began at a very young age. At the age of 14, he started practising Sotokan karate and he holds the brown belt. He later switched to full-contact style such as Kick Boxing, BJJ (Brazilian Jiu-Jitsu). He is still an active athlete, taking part occasionally in amateur competitions.
In addition to his martial arts skills, his first interaction with sports was at the age of 5 through swimming and lasted for nine years. During this time, he was a member of the national children's swimming team participating in pan-Hellenic competitions earning several distinctions.
Academic Background
·        Graduate of the Department of Informatics Applications in Management and Economics of the University of the Ionian Islands.
·        Holder of an MBA in Hospitality & Tourism Management from London Metropolitan University.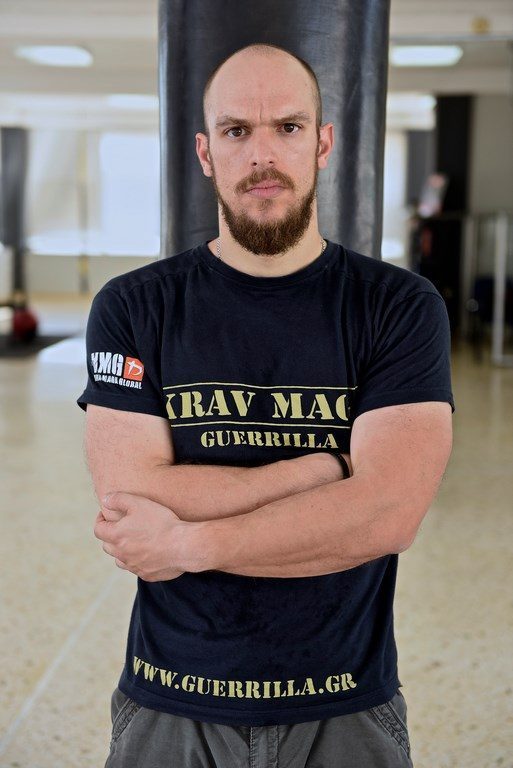 CERTIFICATIONS
CEO and Head Instructor (Krav Maga Guerrilla)

Expert 2 Institute Krav Maga Cork Ireland

Expert 1 Krav Maga (Krav Maga Global)

 Former Technical Director in K.M.G (Krav Maga Global)  Athens,Greece Region

Gold Instructor I.M.K.M (International Military Krav Maga)

Graduate 5 Krav Maga I.K.M.F (International Krav Maga Federetion

Military Instructor I.K.M.F (International Krav Maga Federetion)
Certified Kettlebell Teacher (CKT) Level 1 Certification (I.K.F.F)

Muay Τhai Advanced Level (Tiger Muay thai camp Phuket Thailand)

Pistol-Rifle-Shotgun-Basic Level TTT ( Tactical Training Team,Serbia

Basic Carbine Course (CENTER-A,Kiev Ukraine)

Shooting Instructor (ΣΚ.Ο.Ε)

Nature Core Fitness Movement Head Instructor

Animal Movement Level 1 Instructor